This was one of those unique jobs that you don't normally think about using pressure washing for.
But our Denver pressure washing service turned out to be the most effective way to remove the glue that held down the carpeting used to convert this warehouse into an indoor soccer field.
We've done similar types of cleaning when someone had a sticky substance they needed cleaned up but never one this large. The strips of glue ran the length of the warehouse to hold the carpet down.
The owner of the soccer field was moving out and had to return the warehouse to its original condition – which meant removing the carpet and all the glue.
One thing you have to keep in mind when you're pressure washing concrete – especially when you're trying to remove something sticky – is how much pressure you will use. A commercial pressure washer will eat up the top surface of the concrete if you're not careful.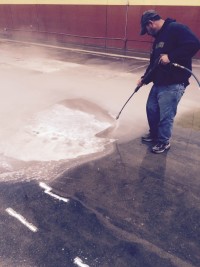 Depending on what kind of gunk you're trying to remove, you may be better off using some type of material to loosen things off. You can't use high pressure and hot water for everything without damaging the underlying surface.
So if you have a mess you need cleaned up, call a pressure washing company with the experience to do the job right.
Related pages and articles
Summary
Article Name
Pressure Washing To Remove Glue From Indoor Soccer Field
Description
Our Denver pressure washing service was the best way to remove glue holding the carpeting that made this warehouse an indoor soccer field.
Author