The Town of Parker needed our building pressure washing service after they cut down some bushes and exposed a rust stained brick wall.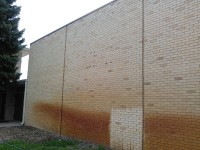 The building at 19650 E. Mainstreet was built in 1915 and was the first school in Parker. It currently houses the Parker Mainstreet Center. The dirty wall faces Mainstreet in downtown Parker and looked terrible to everyone that drove by. The sprinkler system had splattered rusty water all over it for years and made quite a mess.
Cleaning brick on building exteriors can be a challenge since there are so many different kinds of brick. Manufacturers use different types of clay, depending on where their plant is located.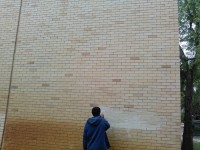 And the minerals in the water that often create the stain can vary widely, too. Some have rust or lime or any variation of minerals. The technique needed to clean the brick without damage is different for every job.
Older buildings are usually made of softer brick than the newer ones and they require more care to make sure the brick isn't damaged. If the pressure washing is done with too much pressure, it's easy to gouge the brick and cause permanent damage.
We sent one of our crews with experience in building pressure washing and brick cleaning out to Parker to do a test patch. We needed to know what procedures it would take to get the job done properly.
Without that information, its impossible to bid the job properly. Different brick cleaning materials have different costs and vary in the way they are to be applied. The time it takes to do the job right also varies dramatically depending on the procedures.
Building pressure washing takes experience to do the job right, especially when you're dealing with stains on brick. Hiring a pressure washing company just because they had the lowest bid may be a decision that will be regretted forever.
If you need a building pressure washing service, call a company with years of experience that will do the job right.
Call us at 303-937-7181 or email us at info@washonwheels.net.
Related pages and articles
Summary
Article Name
Building Pressure Washing For The Town Of Parker
Description
The Town of Parker needed our building pressure washing service after they cut down some bushes and exposed a dirty brick wall with rust stains.
Author